Innovative & modern structures that have absolutely revolutionized the way of living outdoor living spaces.
Bioclimatic, ergonomic, aluminum & louver
Atmosfera is the ergonomic louver pergola with orientable and retractable blades, an innovative folding system with a smooth and silent sliding movement of the blades.
It offers a clean design and allows a natural ventilation for constant air circulation, reducing the heat input, protect from direct sunlight, allows to fine-tune the light intensity and provide perfect protection against the rain.
This system is characterized by the high level of comfort inside, automated handling and sensors for protection form atmospheric phenomena.
This state-of-the-art system enables to retract the blades and open the roof when you want to open up to the sky.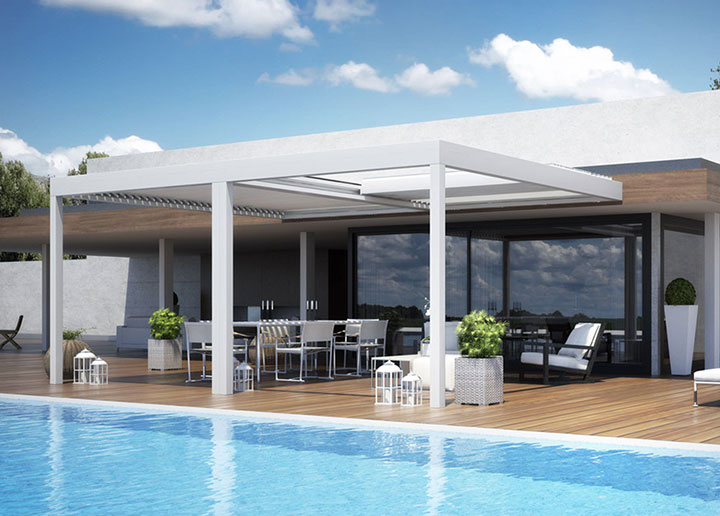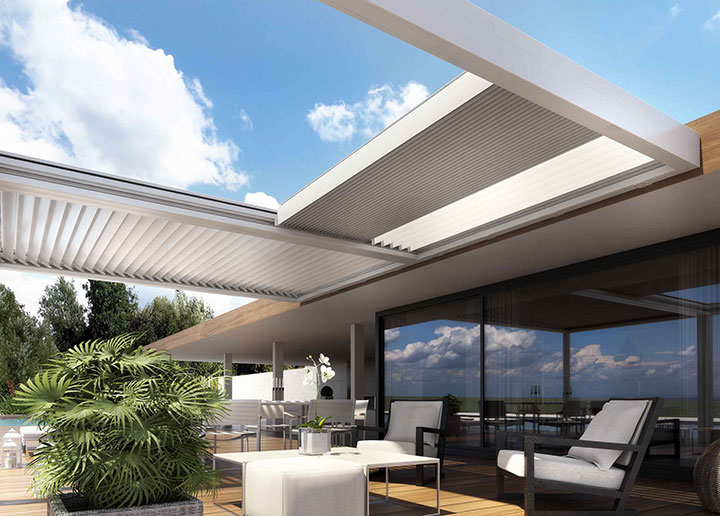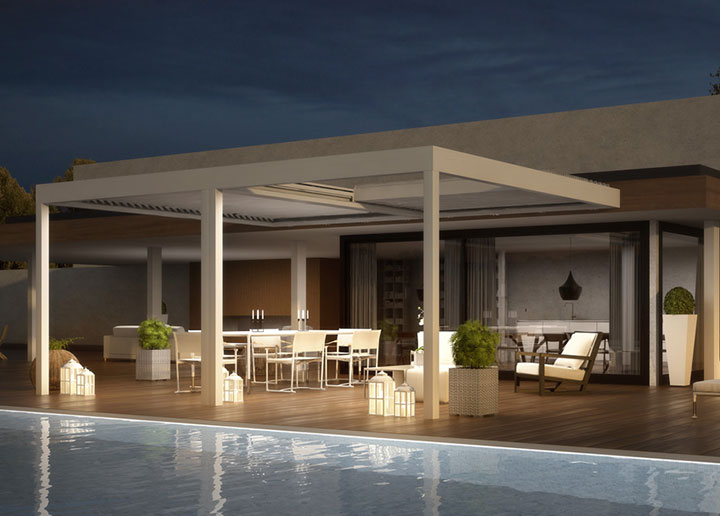 Durable, beautiful, elegant & dependable
Its aluminium components are powder coated, designed to guarantee strength without compromising the light shape of its parts. With the adding of perimeter curtains (Zip-roll, or Vista) Flute can literally create an elegant waterproof extension of any area.
Available up to 40´ in width and 23´ projection, Flute is electrically controlled only.
Its parts are maintenance free and its horizontal stabilizers are designed to sustain an elegant PVC cover available either in white or cream color to perfectly blend with virtually any architectural design.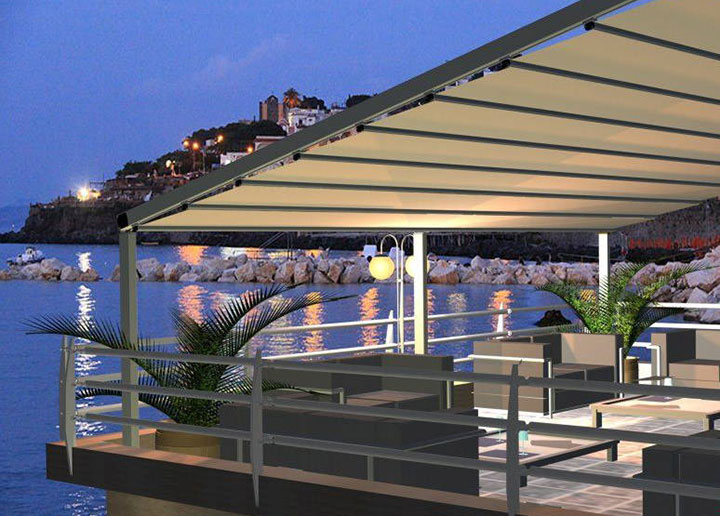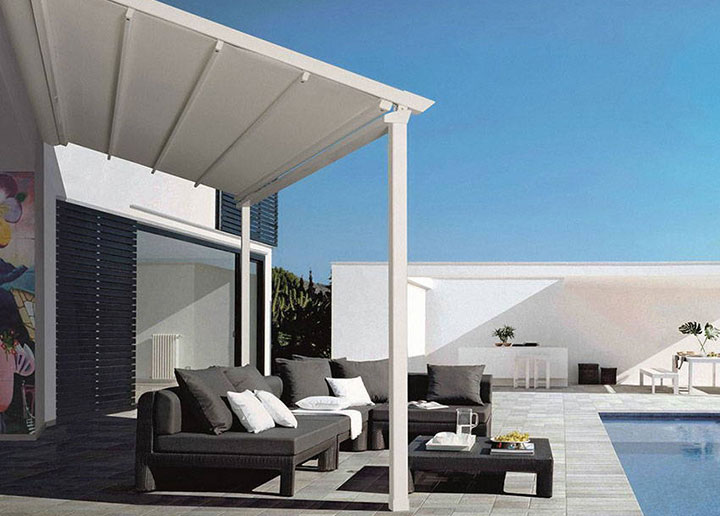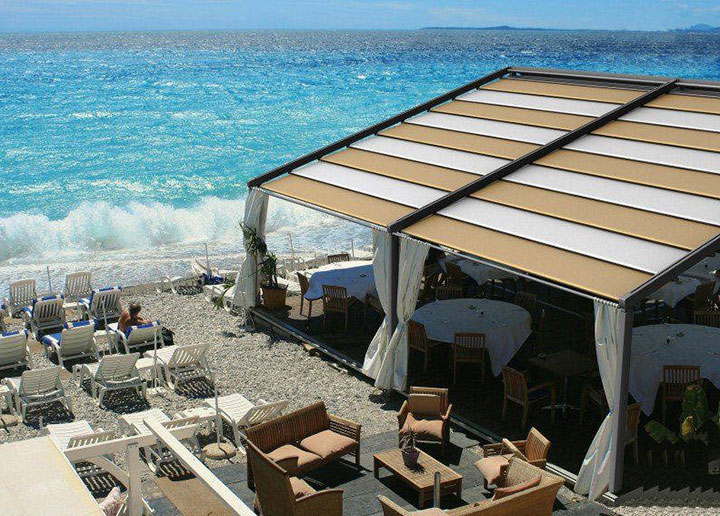 Discrete, beautiful, elegant & dependable
Pergoshade is a simple solution to shade needs for classic existing wood pergola.
Manually controlled by a convenient front cord, Pergoshade runs between discrete aluminum rails installed beneath the selected trusses of your pergola and its cover can be made out of any classical acrylic fabric or sunscreen mesh.
The rails, almost unnoticeable, are powder coated finished in a classic white color or in any custom color to esthetically blend with any specific pergola frame color.
When fully extended, Pergoshade maintains its elegant waved design in a steady position by tightening the front rope to a convenient provided cleat. When fully retracted, its fabric pleats compactly at the back of your pergola ready to be extended when desired.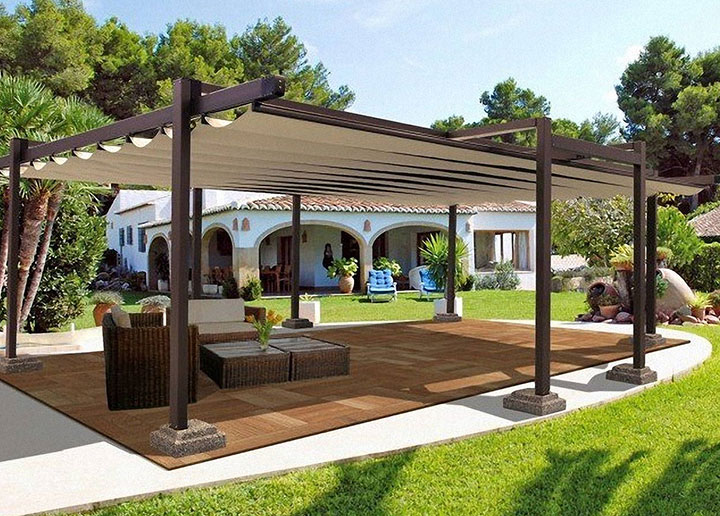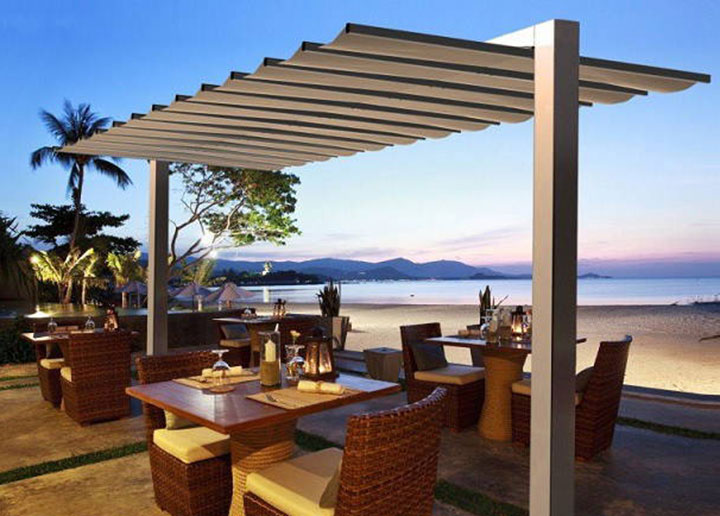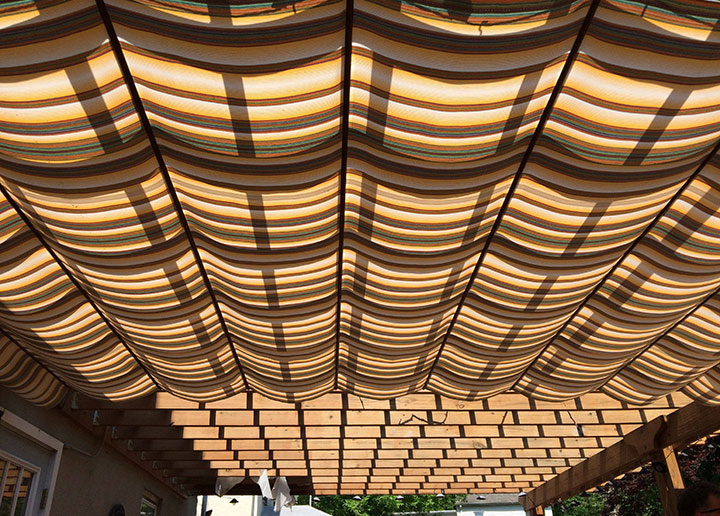 Expandable, elegant & dependable
Simple and elegant. The perfect retreat where to dream of exotic sunny beaches and escape in the mind.
Pergobeach is a delicate and yet strong shading structure designed to bring an elegant self standing solution to selected outdoor areas such as pools, beaches, terraces, decks, hotels and restaurant patios.
Beautiful in its classic standard white powder coated aluminum parts (custom colors are available), Pergobeach is covered with strips of fabric running parallel to each other, alternately sustained by discrete windbreaks to complete an aesthetic design able to satisfy any style expectation.
The perfect solution to enjoy the relaxing moments of hot summer days.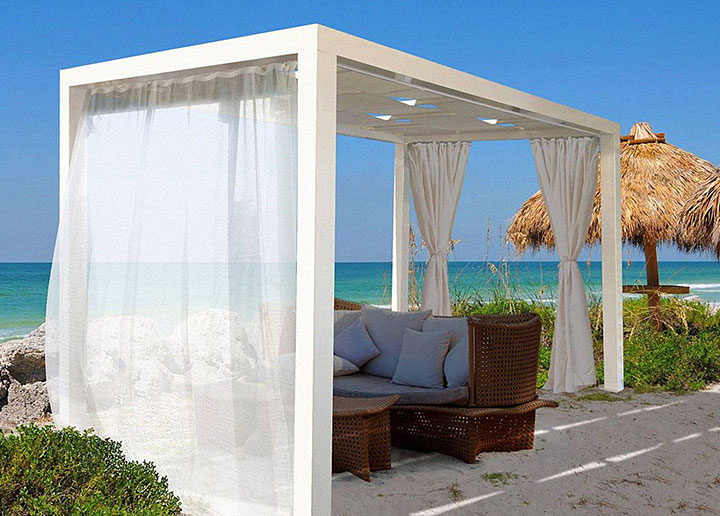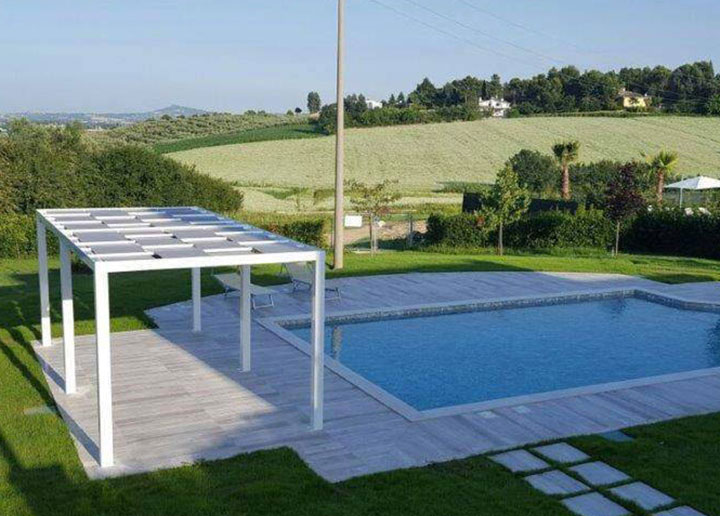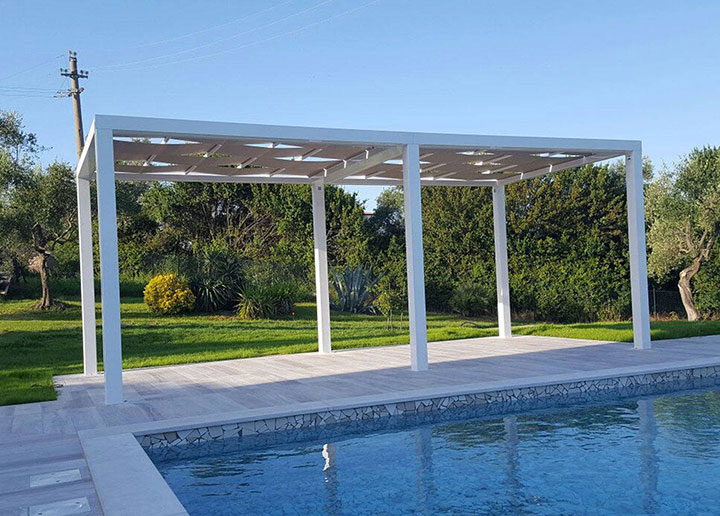 Expandable, safe, elegant & dependable
The innovative design of Pergopatio's aluminum structure combines the ingenuity of a retractable Flute system with the independence of a self-standing patio pergola.
A waterproof shading system when required, Pergopatio offers protection on command from sudden inclement weather conditions as well as the freedom of an open roof to enjoy sunny days or starry nights. The top of its perimeter is designed to be a hidden gutter, while its posts act also as concealed drains able to discharge the collected rain into the ground.
Powder coated in a classic white color or in any custom color request, Pergopatio is offered with a maximum 26´ projection (intermediate uprights are required) and a maximum 16´ width.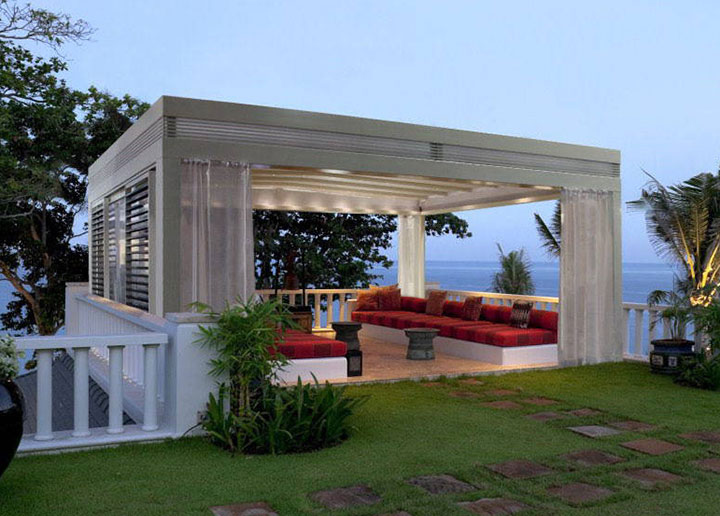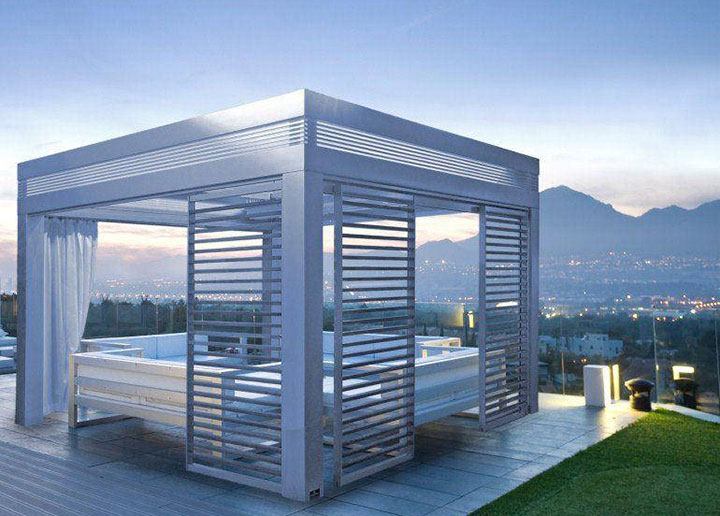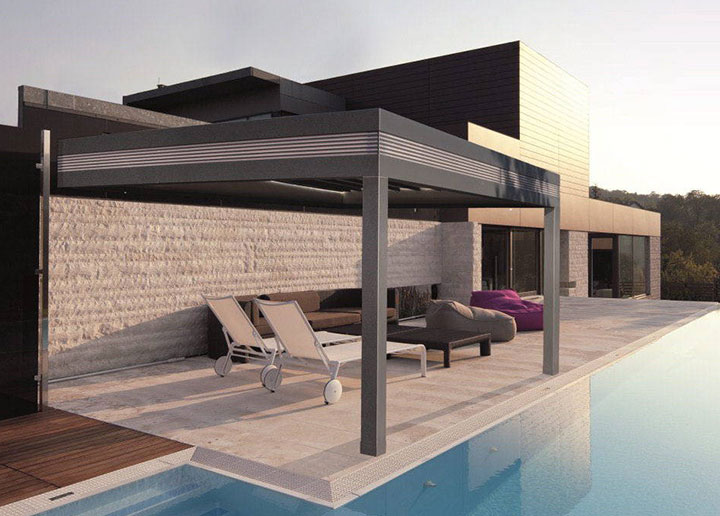 Expandable, safe, elegant & dependable
Designed to offer a distinctive waterproof shading solution to the most sophisticate demand for outdoor luxury protection, Pergolouver is a self-standing or wall connected horizontal system whose top is able to be adjusted for natural light and ventilation.
Its aluminum elements are fully powder coated, and its slats allow a rotation between 0 and 140 degrees with the possibility to select any desired intermediate position to better respond to any specific light direction. Its perimeter is a hidden gutter connected to its uprights that act also as vertical drain sprouts. The motorized rotation of its lats offers sun or rain protection making any covered area always enjoyable. Pergolouver is offered motorized with a low voltage motor and its 8" deep perimeter is perfect to receive sun or mosquito rolling screens in their elegant cassettes to provide privacy.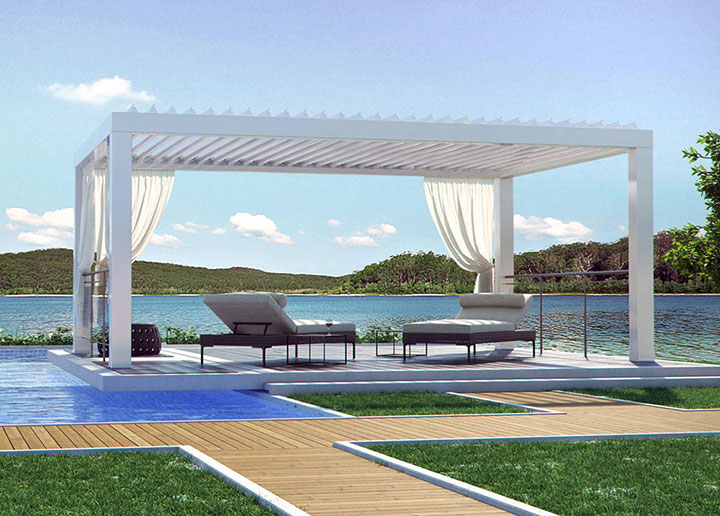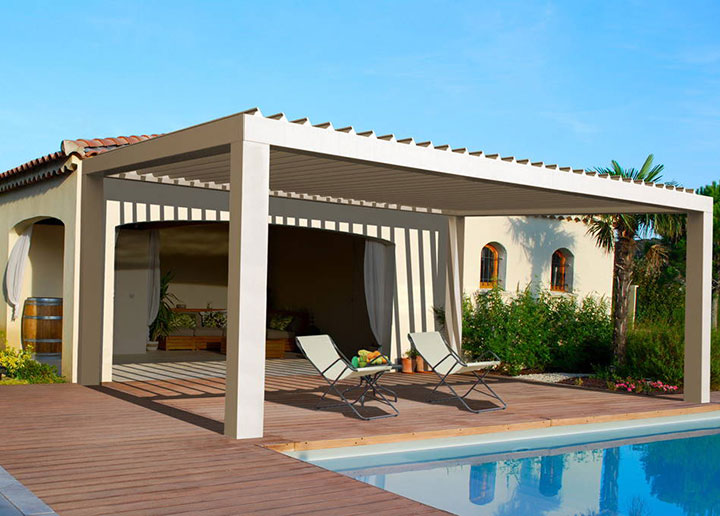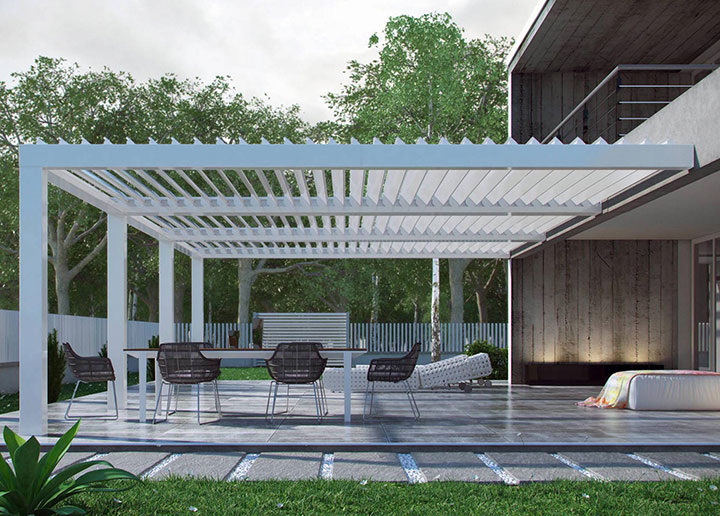 Discrete, beautiful, elegant & dependable
Zip-Roll by Alutex is a cassette system with a roll-up curtain designed to provide wind and rain protection for vertical openings in pergolas, patios, verandas and windows in general.
The side edges of the curtain are finished with a zipper able to slide along a vertical channel inserted into side rails. While the channel allows the vertical mobility of the curtain, the zipper guarantees retention along the side rails providing a sealed rain and wind solution.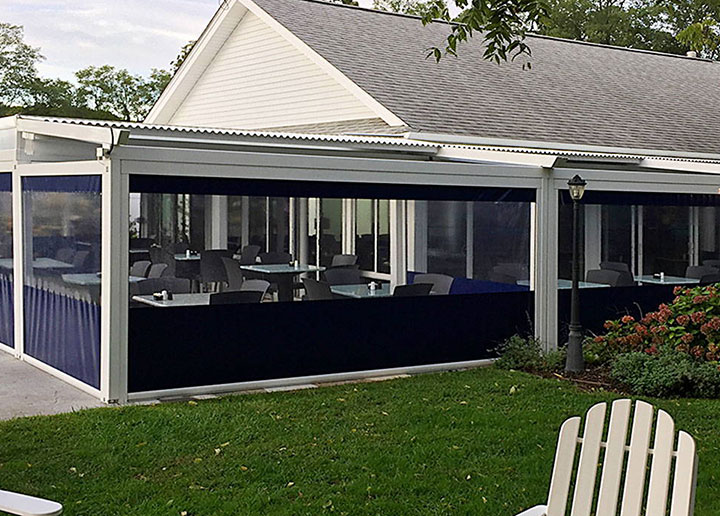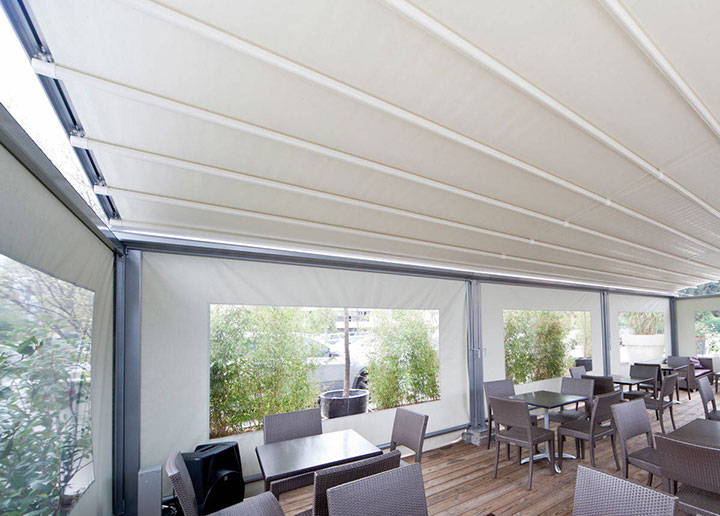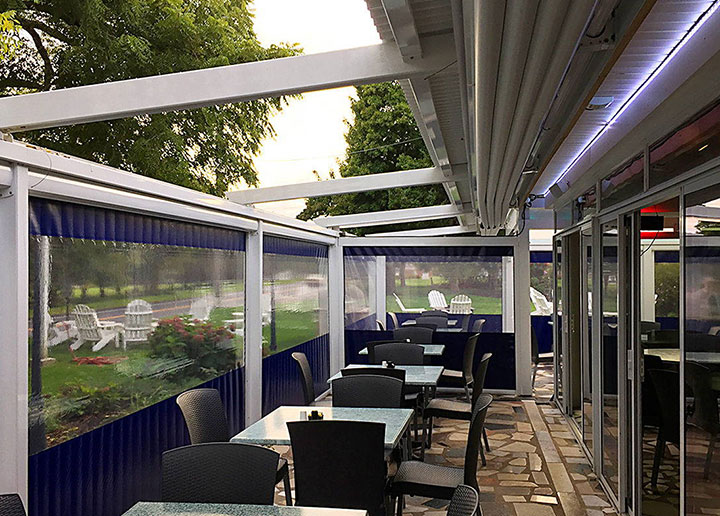 Discrete, beautiful, elegant & dependable
Vista is an Alutex cassette retractable curtain for wind and rain protection in vertical openings of pergolas, patios, verandas and windows in general.
Designed as an alternative to Zip-Roll where the use of a zipper system is not feasible, its wind and rain protection is provided by the use of two horizontal stabilizers equally spaced along its height and retained at their ends along two deep side rails. Because its curtain is produced with three independent horizontal panels, each panel can be replaced on demand without having to involve the others.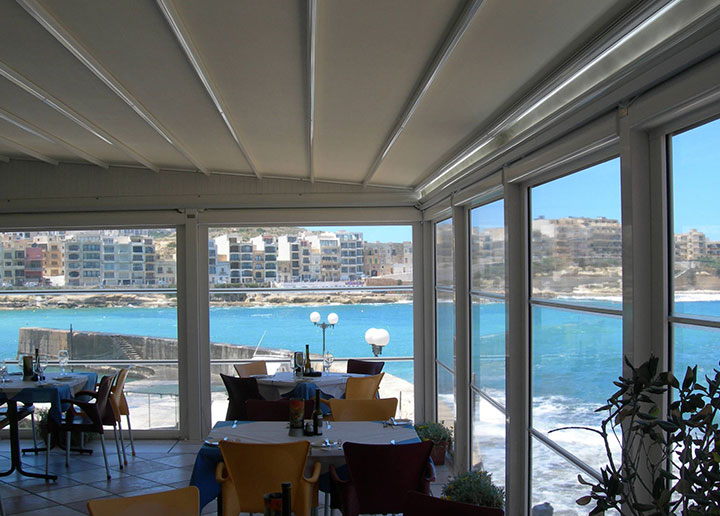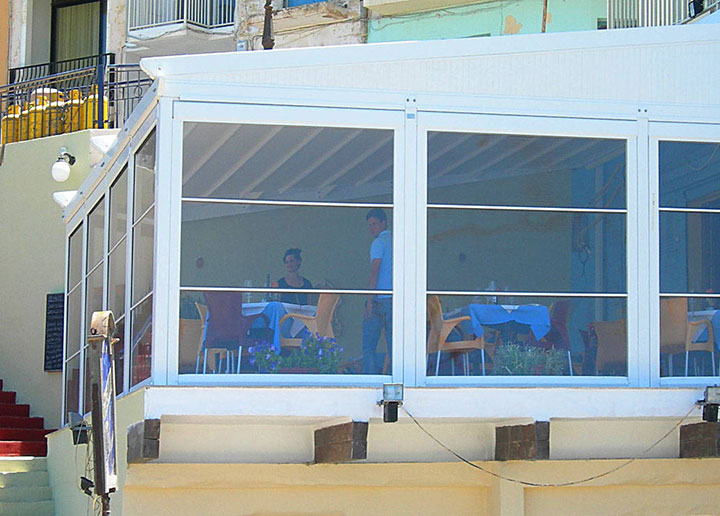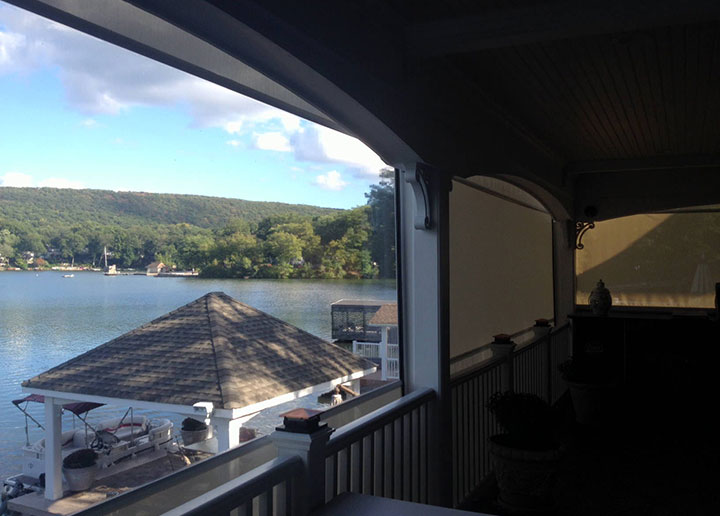 Subscribe to receive offers.